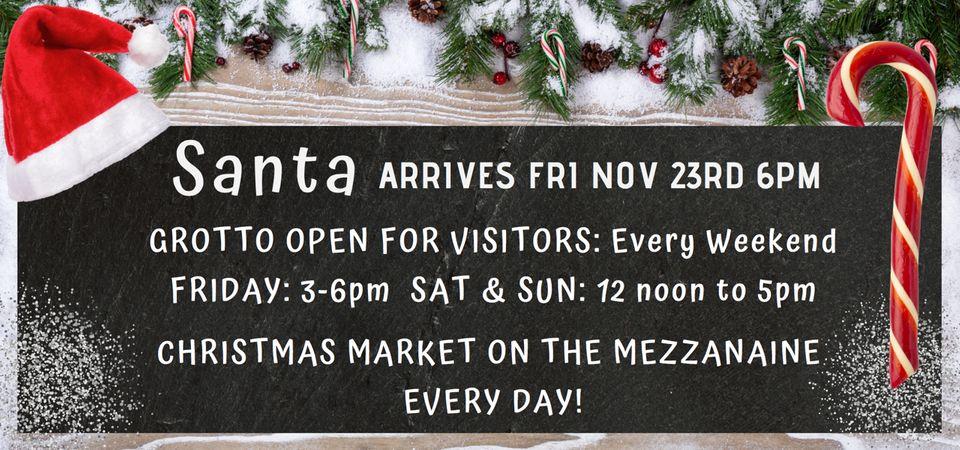 Winter wonderland at Quayside
The festive season has officially begun at Quayside Shopping Centre in Sligo with the launch of the hugely popular Winter Wonderland.
"Last year we created a multi-story winter wonderland, with amazing decor from Feehily's Florists, rustic Christmas market stalls and of course Santa's grotto. It was amazingly popular with so many people saying they had never seen something like it in the north west. This year we are building on that success and are looking forward to welcoming families from across the region to immerse themselves in a truly magical experience", said centre Manager Ms. Christine Dolan.
Santa's winter woodland and Grotto, which has been specially imported from the north pole for the occasion, will be open from 3pm to 6pm every Friday and 12 noon to 5pm every Saturday and Sunday right up until Sunday 23rd December.
Every child will be receiving an individually wrapped gift and can have their photo taken with Santa in his Grotto and get a special print out if they wish.
Thousands of very good boys and girls from all over Ireland came to see Santa last year in his Grotto, and this year promises to be even better.
Artisan Christmas Market
Building on the success of last year the Christmas market will mean there's somewhere for mum and dad to buy those extra special Christmas gifts and relax and soak up the atmosphere. The Christmas markets are located on the Mezzanine floor and now has a seating area with even more local traders on board.
Stall holders this year will include, "The Natural Company and their range of thoughtful and environmentally friendly gifts, "Ardnahoo Retreat", "Murson's Farm Products", "Mermaids Purse" Ceramics, "Bespoke glassware and lighting", "Sarah Jane Jewellery" and "Get Grounded Coffee."
Joining them will be MG Cakes, Flamenco Kitchens, Orla Gorman Scarves, The Irish Tea Company, Noo Chocolates, Four Sprung Ducks Christmas gifts, Isobellas Kitchen, What's Soups, The Soapbox, Inishowen Candles, Dumore embroidery, Festival Ink, K9 Fit and many more. Every Saturday there will be special entertainment for kids so keep an eye on the facebook page Sligo Christmas Markets, for all events.
"2018 has been a busy time for us at the Shopping Centre with the arrival of the new Quayside Café on Quay Street Mall, Fabio's Ice-cream & coffee shop, and more recently Shake Dog, the American style dinner that has just opened up next to the Omniplex cinema. Quayside is just buzzing at the moment and the centre will stay open late throughout December to accommodate the Christmas Shoppers'' said Christine Dolan.
All information on extended opening times, marketing events and special offers are available on the website or follow us on Facebook, Instagram and Twitter here.